Moringa Oleifera, commonly known as Moringa is the most nutritious tree found on the earth. Moringa tree grows in tropical conditions and this tree is native to Indian and Africa. Moringa tree thrives in dry conditions with very little amount of water. In African language Moringa tree is known as never die tree. This is because of its ability to survive in acute dry conditions.
Moringa Leaves are the most nutritious part of the Moringa tree and are widely used in salads, curries and chutneys in India. Nowadays Moringa is getting popular world wide as a nutrition supplements because of its very high contents of vitamins and minerals. Moringa tree is cultivated either through its seeds. The benefit of the Moringa tree is that, all the parts of the tree are used and nothing goes as waste.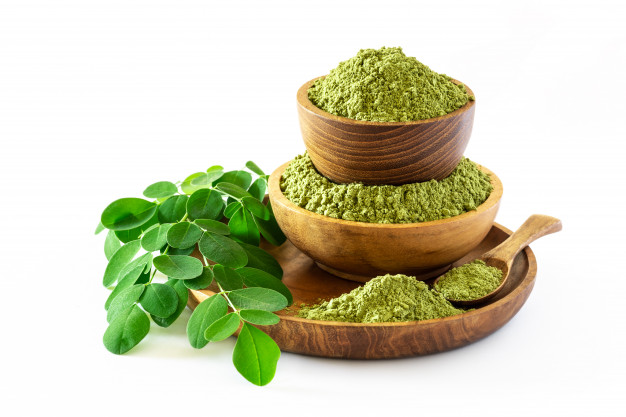 The Moringa tree bears very delicious fruits, commonly known as "Drumsticks" and they form a very important role in Indian cuisines ad they are also very much nutritious. The dried Moringa Pods (drumsticks) bears seeds and these seeds when crushed provides the wonderful Moringa Oil. Moringa Oil is used as a major ingredients in the cosmetic industry. The Moringa seed Powder is a rich source of plant based natural protein.
Moringa leaves, which is the most nutritious part of the Moringa tree, is loaded with Vitamins and Minerals. For this reason it is known as the Nutrition powerhouse. Fresh Moringa leaves contain 70 to 75% moisture and when they are dried the moisture content goes down to less than 8% and hence the nutrients becomes much more concentrated. That is the reason why people prefer to use Moringa Leaf Powder in their supplements.
Moringa leaf powder contain the following nutrients.
Protein
Fat
Carbohydrate
Fiber
Minerals
Calcium
Magnesium
Phosphorous
Potassium
Valine
Iron
Vitamin A
Vitamin B1 – Thiamin
Vitamin B2 – Riboflavin
Arginine
Histidine
Leucine
Tryptophan
Phenylanaline
Methionine
Threonine
Isoleucine
NOT ALL MORING IS MADE EQUALS
If Moringa Oleifera leaves are not harvested, processed, or packaged and stored correctly, they will oxidize and lose their nutritional content, therefore you won't be able to see 100% of the beneficial effects. That's why we are meticulous about how we harvest, process and protect our wild grown moringa, to ensure you receive the highest quality, freshest moringa possible.